Keylogger NET4 software description
Keylogger NET4 software was released for information security purposes - to control and monitor user activity. This program version has important differences from all previous Keylogger series versions.
Keylogger NET4 is the client - server application. The user can receive data with the high protection level. Now You can work with collected LogFile data inside special application - the authorized Viewer.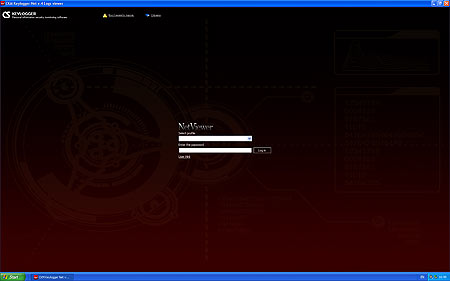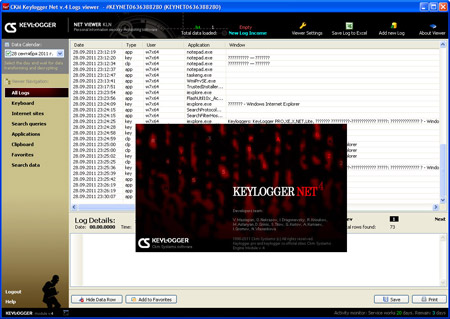 Keyboard spy Main specifications
Keylogger NET4 records LogFile of all programs' starts, remembers Internet addresses and search engines' queries that's very useful for Keylogger usage by parents on home computers. Keylogger NET4 interacts with the system clipboard. As the keyboard spy Keylogger NET4 remembers all keyboard combinations and applications that use them and resulting the monitoring of visited web-sites, communication in social networks, chat-messengers like ICQ, Skype, etc., including logging of logins and passwords, - all that will be recorded in LogFile.
Keylogger NET4 key parameters:


Memorization of each keylogger keystroke

Keylogger Viewer friendly software interface

Clipboard data logging

Search systems, web sites, social networks, messengers, files logging

Keylogger LogFile data search

Logs calendar, archive logs searcher

Classification of applications by types

System active processes registration

Stealth invisible keylogger client mode

Data encryption

Auto-decryption after the correct authorization

Favorites function in Keylogger LogFile

Saving data to MS Excel and HTML file formats

Data filter (show useful, ignore unuseful)

Keylogger LogFile Viewer passworded access

Hiding in the list of "Installed/Uninstalled programs"

Easy Printing. Data is formatted to print. Format A4

Tray-menu icon Keylogger Viewer fast access

Hidden mode of Keylogger Viewer

Ability to get data from 5 computers (maximum) - Optional

Logging data under relevant identifiers (computer names)

Auto-start and system work

Works in MS Windows XP, NT, 2000, 2003, 2008, Vista, Window SeveN

System stressing is less than 0,002-0,010%

Viewer works from USB v.1.0/2.0/3.0 devices
Data LogFile window
Now Keylogger NET4 data LogFile is more comfortable. It's more well-defined with more functionality and informativity than in previous version. Keylogger LogFile Viewer has different options to show and explore data. You can access fast any day Keylogger LogFile data in one click. Most interesting data can be easy bookmarked to "Favorites" list for fast future access. The list has no limits.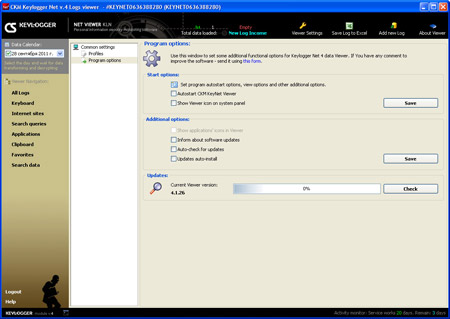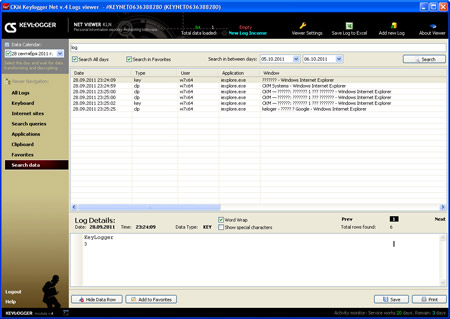 Keylogger NET4 Free service test

The available for download version allows to check and test the full functional of Keylogger NET4 software during 24 hours from the moment of installation. As the matter of fact, that time is enough to enjoy all benefits of this keylogger version. In this period the installed spying module must collect all data and send it into the LogFile - Viewer.