Sonar Audio - Software description
Sonar Audio is clever and easy-to-use software for acoustic control of the working place and acoustical control of any living apartment. Sonar Audio acoustic monitoring software can easily keep under audio-control a room of 35+ square meters and neighboring apartments. Audio-recording is processing by a multimedia microphone and any computer with installed Sonar Audio software.
Skype talks recorder

You can record Skype conversations and talks in other audio-chat programs. The recording is processing in 1:1 mode cause of the inner system audio streams saving the original talks quality without a corruption.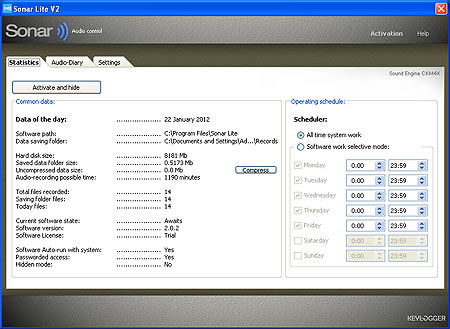 Brief description
Like other Keylogger series software Sonar Audio has Calendar and Sheduler block that helps You to set an exact work regime. Microphone calubration functions allow to tune sensitivity inside work space the best way. The detailed information about microphone calibration can be found in the user manual. The software is compatible with modern multimedia microphones and sound cards.
The simple system of visual count allows to set the quality of output audio-files and control the free space on the computer drive storing records. Also, You can record files by chosen size. All files automatically get the title with the day and time for comfortable archiving if needed.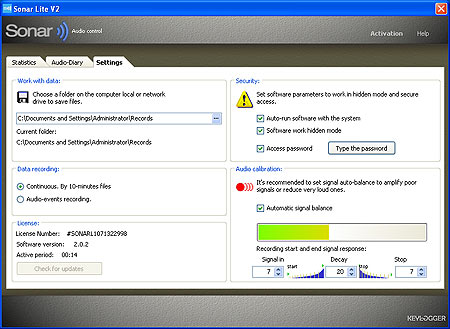 Audio-records playback

You'll find the built inside Sonar audio-player for audio-files playback - the so-called Audio-diary. It shows the time of the beginning and the end of the recording, pick values (the most loud points for each audiofile), the audio-file size, the file date and format. You can listen audio-tracks one-by-one and independently. Any trivial audio-file can be easily deleted. Each recorded file is marked by the recording date. So, You can easy browse any file choosing Month, day, time in calendar selector.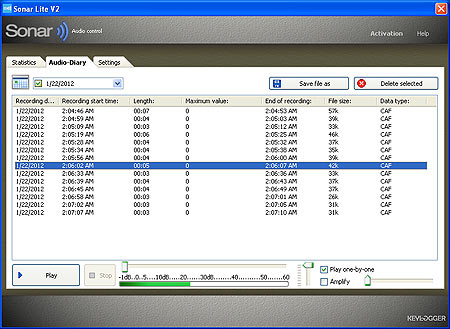 Sonar Audio is powered with the special mechanism of artificial signal amplification to normalize any low-level signal (especially if a signal source was quite far from a microphone) that can be corrected in a real-time mode while listening to a recorded audio-file. This function enhances a chance to make a file more understandable and readable.
Setting parameters
Sonar Audio software for acoustic apartments audio control can be set with some hidden parameters of program presence inside the system, set your own password to access the software and more other pivate settings.
The software records audio-events that are saved on the computer and the recorded file format is not assoсiated with multimedia programs. Thus, recorded audio-control files can be listened just inside Audio-diary player after typing your password locking the software.
By your wish You can save recorded files in .MP3(128Kbs) or .WAV(16Bit 44.1kHz) format right from Audio-diary.
Compress data function allows to compress all recorded audio-files to minimize 5-10 times the space on computer hard drive.
Sonar Audio areas of use:
---
- For Parental audio-control purposes and to control apartments personnel
- For Acoustic apartments control purposes
- For multi-part talks recording in Skype and same programs