Keylogger Net - software description

Keylogger (keystroke keyboard spy) NET-version is the recording all You type on your computer keyboard software product for PC, developed by CKM SYSTEMS as the cheapest solution on the software market for end users. This keyloggering version records all visited internet sites, typed search queries, logs all active (started) in system applications, copies the computer clipboard into LogFile. The spying system monitors, encrypts data and sends it to your E-mail address in XLS (MS Excel) file format that's very comfortable to watch the received information on a wide range of devices, such as a mobile phone or a compact PC.
This Keylogger version logs data on a computer for 24 hours and sends to your E-mail address. Activated version transfers 1 log file after each 24-hours period from working and connected to Internet computer.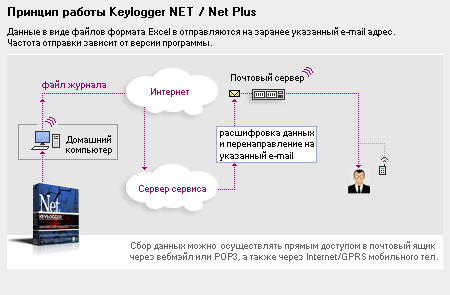 Personal Information monitor
Keylogger NET is used as the personal tool for PC information space control. This solution acts as the service and can be used as regularily and periodically, for example, month by month.
The current solution is the useful add-on for parental control functions and the cheap alternative to KeyLogger PRO version solutions. This version of Keylogger software allows to receive data more accurately and the integrated function of the remote Keylogger LogFile data-transfer function helps to receive it with the exact frequency (see Keylogger Net Plus description). The Life Motto of this Keylogger version is: "Set & forget!" - All data shall reach You in the planned streaming mode.
Keylogger NET works in the mode of cleaning LogFile data right after sending it to your chosen e-mail address that makes Keylogger NET to be the "clean" software product.
Received LogFile data window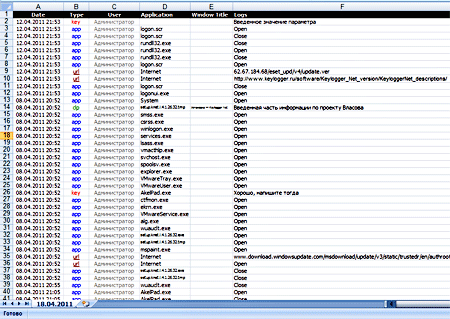 LogFile shows Date, Time, used application and text.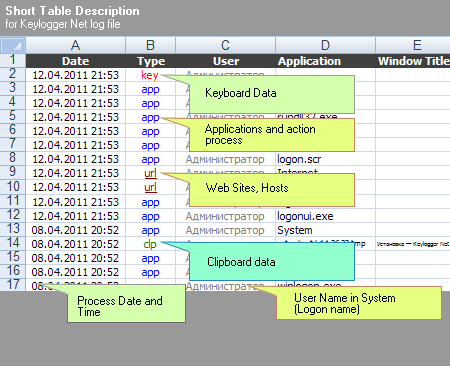 Free service test
24-hours trial period helps You to check the installation process simplicity and the full-functional of Keylogger NET. 24 hours Keylogger logs data sending it to the E-mail address after this period. After 24 hours of the test period the program deactivates and shall send You just reminders to activate the software and your computer License Number. You can pay to activate Keylogger Net at any moment after installation. The paid version activates in 30 minutes and works during the activated period that You'll learn from the informational E-mail.