Sonar Lite - Frequently Asked Questions

This page was constructed for developers to answer your frequently asked questions about Sonar Lite software.


Can Sonar Lite record speech talks in Skype?
Yes, it's the Skype-recorder and works in same audio-conversation voice-chat speech talks programs.
Can Sonar Lite work in a hidden mode and as an invisible recorder?
Yes. Use Settings menu to set your level of invisibility.
Can I edit the recorded audio-file in another audio-edit software?
Yes. Just select the recorded audio-file in Audio-Diary and save it as WAV-file, it shall be editable in another audio-edition software.
What will happen if a kid finds working Sonar Lite?
Well.. it's hard to forsee. But You can set your personal password to access the program. Do it in Settings area. Also, we recommend You to hide Sonar icon from Tray-menu. Set in Settings area.
Can Sonar work if my computer is switched off?
Not this version.
Where can I see License status?
In Statistics area, as shown on the picture -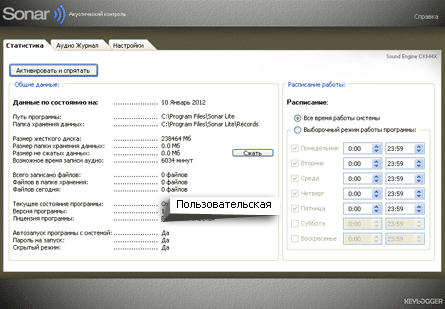 How can I send to my Email the recorded audio-files?
This Sonar version has no such function. This Sonar allows to send audio-files to E-mail.
How can I improve Sonar Lite as the flat alarm-system?
You can use your microphone with 2-3 meters multimedia extension cable and set it more closer to a central object place point. And certainly all doors between rooms must be opened. But remember that 1 microphone can be not enough for Sonar Lite.