Discontinued Keylogger versions

Keylogger Lite version 2x are discontinued. The current version is Keylogger LITE V4.
Keylogger Lite - Features of old version


Keylogger (Keyboard spy) version "Lite" is the software product for PC, developed by CKM SYSTEMS as the cheapest solution on the software market for end users. This product is suitable first of all for people whose work is connected with huge data amount that can be restored anyway regardless of whether it was saved or just "typed".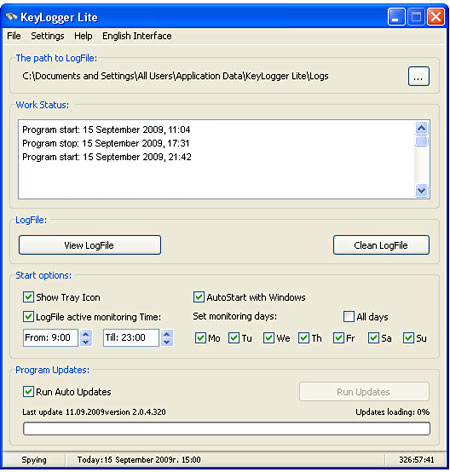 Also the software records the LogFile of all programs' starts, remembers Internet addresses and search engines' queries that is very useful for Keylogger usage by parents on home computers. KeyLogger Lite software does not interacts with a clipboard.
Keylogger Lite key parameters:

Memorization of each Keylogger key stroke

Multilanguage keylogger software interface

Interaction with a clipboard - is absent in this version

Intuitive Keylogger LogFile diary

Fast keylogger LogFile information search

System stressing is <0,002%

Classifies programs by types

Works with MS

Windows XP, NT, 2000, 2003, 2008, Vista, Seven

This keyloggering software version can work with hidden Tray-icon

Schedule start and key process work

Tray-menu icon Keylogger fast access (if not de-activated in Settings)

Free 1-year updates for KeyLogger!
KeyLogger Lite program LogFile is intuitive and structured. LogFile has different options of data View and listing. Found results are highlightening by the contrast color. Keylogger LogFile has fast any day data access in one click.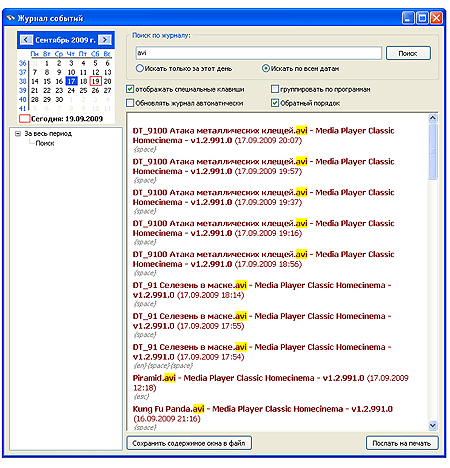 Keylogger Lite minimizes in system Tray and also can be absolutely hidden from user eyes, appearing in its window after the set Hot-keys combination. KeyLogger User Guide helps You to find more detailed instructions about all keyloggering steps.