Keylogger XE - the keystroke keyboard spy computer software with the function of sending all collected data to your e-mail address. The main feature of Keylogger XE information security software is the possibility to choose the best file format of logs to receive by E-mail. You'll receive up to 4 LogFiles during 24 hours.
Possible file formats: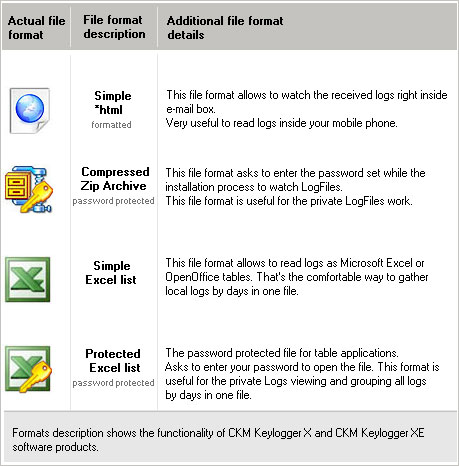 Free service test


The available for download version allows to check and test the full functional of Keylogger XE software during 24 hours from the moment of installation. As the matter of fact, that time is enough to enjoy all benefits of this keylogger version. In this period the installed spying module'll collect all data and send it to the E-mail address You've entered while the installation process. Wait for up to 4 E-mails with logs in 1 day.