Keylogger Net Plus - software description
Keylogger (keyboard spy logger) "NET Plus" version - the software for PC logging all keyboard keystrokes into its own keylogger LogFile, - developed by CKM Systems as as the cheapest solution on the software market for end users. The difference of this keylogging software release from Keylogger NET is in the function of sending a number of times during one day all data from KeyLogger LogFile to your e-mail address. All data-transfer is proceed in encrypted mode that secures it from been watched by a third part.
This Keylogger version logs data on a computer for 6 hours and sends to your E-mail address. Activated version transfers 1 log file after each 6-hours period from working and connected to Internet computer.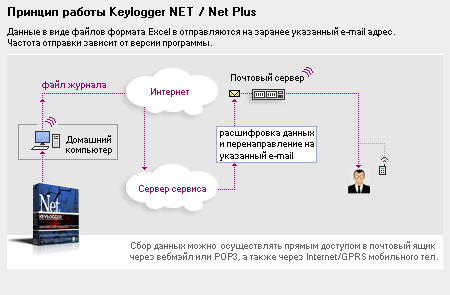 You install KeyLogger NET Plus on a computer by setting your real working E-mail address that shall receive right after the installation a License Number to activate the software for a chosen period. All logged data from Keylogger LogFile shall be sent to your email box up to 4 times a day.
This solution is the useful add-on for parental control purposes and the cheap alternative to Keylogger PRO version solutions. This Keylogger version allows users to receive data more carefully, and the realized function of LogFile data remote transfer manages to get it by regular periods.



The Motto of Keylogger NET Plus version is: "Set - Forget & Receive more often!" - All data shall reach You in the planned streaming mode.
The picture of received LogFile in XLS format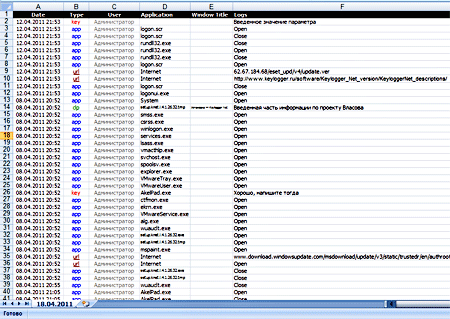 Date, Time, Application is logged in the file + application type and additional information.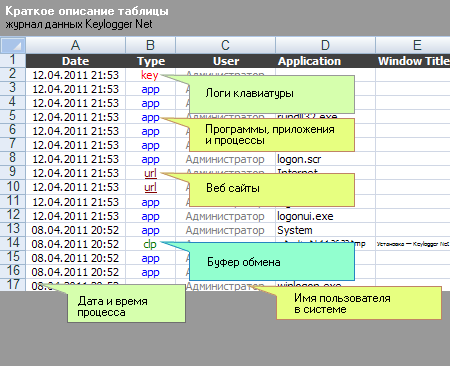 Free Keylogger NET Plus service test


The available for download version allows to check and test the full functional of Keylogger NET Plus software during 24 hours from the moment of installation. As the matter of fact, that time is enough to enjoy all benefits of this keylogger version. The installed spying module must collect all data for every 6 hours and send it to the E-mail address You've entered while the installation process. Thus, You must get up to 4 XLS files with logs during 24 hours.