Keylogger XE Activation
Activation price:

$10
Keylogger XE software activation is periodical - 1 time a year (if You wish - You can choose more long period). After You pay for Keylogger XE License your E-mail receives log files during 1 year period. After this paid period You'll get the reminder e-mail to activate Keylogger for the next period. You choose the best payment method and the activation period You wish. All confirmations about the program activation and the information about activated periods fly to your E-mail address set while the installation.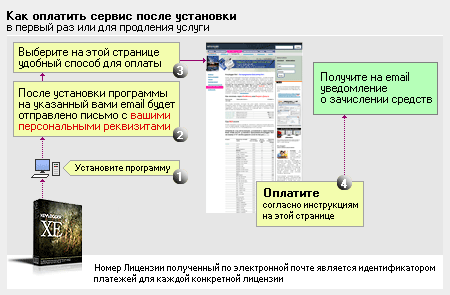 This page offers You different methods of Keylogger XE system activation and rates for different countries of the World. You can activate Keylogger XE by your Bank Card payment through Share-It system or by sending short SMS messages or by using such electronic payment systems as: Webmoney - www.wmtransfer.com, Yandex.Money - money.yandex.ru
Keylogger XE activation is periodical: pay 1 year - Logs shall fly to your E-mail during this period. Then You'll get the reminder to activate the next period You choose. Here You can choose the best activation method You wish. Confirmations after software activation and activated periods' dates You'll get by E-mail. If You don't receive logs or something blocks your spy module in your system - read FAQ and never ask for moneyback.
Bank Card payment & PayPal:

Keylogger XE users can buy it by Credit Card, Wire Transfer, Check through Share-it system. Just use This Link. Please, paste your License Number into "License to" field in the order form.

Activating via Regnow & PayPal
Keylogger XE customers can buy it by Regnow system activating by Credit Card (Visa, Mastercard, American Express, Discover/Novus, Visa Check Card, EuroCard, MasterMoney), WebMoney, AliPay, Bank/Wire Transfer with Invoice, Check/Money Order - just use This link. Please, paste your License number in "Street address" field and send it also by E-mail.


Activating Keylogger XE using Webmoney system, please, choose the best wallet You wish from the list below - WMZ, WME, WMR - and don't forget to send your personal Keylogger XE License Number (consists of prefix #KEXE + 10 digits) that You must receive by E-mail after Keylogger XE installation. You can activate Keylogger XE for more than 1 year period; just sum the price! Please, make payments without protection codes. Transfer 18 Euro to activate Keylogger XE for 1 year period or increase this price on the number of years You wish to activate. For example, to activate 2 years - transfer 36 Euro.

WMZ
WME
WMR


To activate Keylogger XE through Yandex.Money system - You need to transfer 500 Rubles to 41001307838473 wallet number and send your Keylogger XE License Number in the Comment field. The software shall be activated during the payment day. If You wish to activate Keylogger XE for a number of years at once - increase 500 Rubles on the number of years. For example, transfer 1500 Rubles to activate 3 years. Please, make payments without protection codes.